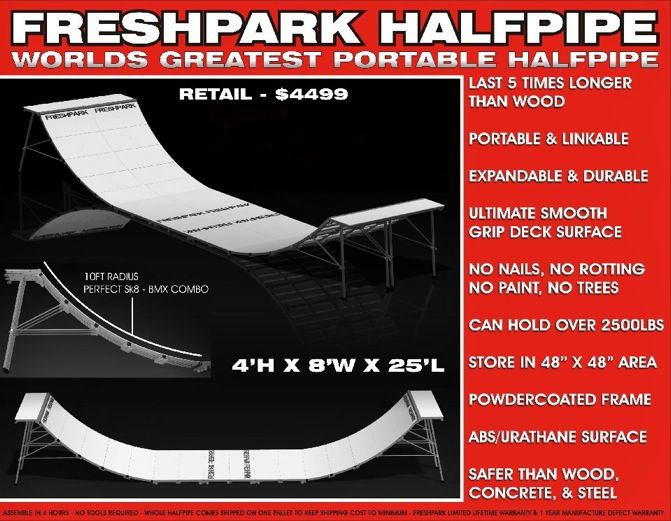 Freshpark is the worlds leader in portable, foldable action sports obstacles. The all new design is more durable and solid than ever. Not only is it the only foldable ramp on the market, it is warrantied for a lifetime against manufacturer defects in construction of the frames.
Wood halfpipes rot, and the top sheets, even if skinned in the expensive composites fall apart after a short time when exposed to common weather making them more unsafe. The hundreds of screws and fasteners used for a wood ramp can back out and become a serious safety hazard as well. Wood ramps are extremely hard to take apart and sell if you ever tire of them as well.
Freshpark halfpipes on the other hand can be set up or taken down as needed. The resale value is second to none for home obstacles and they can easilly be shipped anywhere thanks to the folding compact design.
The Freshpark halfpipe is constructed of high grade steel, then powdercoated to endure the elements. The patent pending SKATESKIN top sheets are made of a ABS and Urithane blend combined with a micro textured surface to allow for the safest possible combination of grip, feel and predictability. It is fastened with one centering fastener and adheared to the frame with civic grade VHBT to allow for thermal expansion.
"This is the most predictable surface that I have ever skated" - Mike V.
The GNARLINK, patented hinge system, allow each seciton to be esilly connected and expanded. This hinge sysystem allows ramp owners to expand and enhance the ramp as they feel. The GNARLINK hinges are what allows Freshpark to be taken apart and folded into easy storage sections when not in use. You can have the halfpipe set up one day, and taken apart and stored the next allowing the area to be multi use if desired.
The Freshpark halfpipe is the ultimate solution if you are looking for a long lasting, portable or permanent halfpipe or minipipe. Available in 3' and 4' heights of various widths from 4' wide to 20'+ wide. The flat bottom can be shortened or lengthend depending on your space and speed preferences.
Email us at Sales@freshpark.com or give us a call today at 1-714-369-2495 for further details.
Wood and composite wood rots, even if treated. Spend your money on a ramp that will last!
Not exactly "Mini" Mini Ramp Dangers of Wood Fasteners sticking out.
Freshpark Halfpipe Each Section folds into a 2' square for easy storage.
Christian Hosoi